The all new trash pack series 5 play-set Trash Town wheelie bin! It comes in a large teal wheelie bin 36 centimeters tall with posters of Trash Town on it. When you open it inside will be lots of construction pieces and a construction manual. Build one of the 5 combinations together or personalize your own! After opening the wheelie bin it can be used as a storage bin. Comes with 8 exclusive trashies and one 7 centimeter wheelie bin. Guaranteed fun!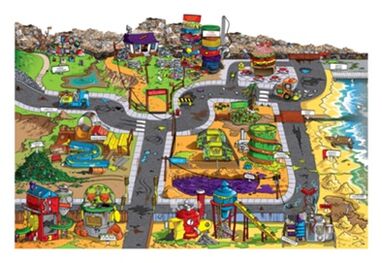 Coming Out In May 2014!!!!
Ad blocker interference detected!
Wikia is a free-to-use site that makes money from advertising. We have a modified experience for viewers using ad blockers

Wikia is not accessible if you've made further modifications. Remove the custom ad blocker rule(s) and the page will load as expected.