Tough Toffee is a trashie from Series 7. He's a grubby, angry looking toffee in the Grubz crew.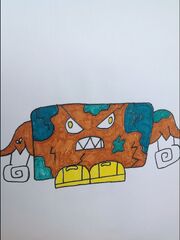 "Have a crack at this toffee!"(TC Line)
BIO:
Toffees are usually nice sweets, but Tough Toffee is one bad sweetner .One chomp and all of your teeth will come off. It's best not to eat him.
General Info:
Series: 7
Team: The Grubz
Finish: Classic
Colours & Rarity: Tan(Common), YellowCommon, Vermillion(Common)
Ad blocker interference detected!
Wikia is a free-to-use site that makes money from advertising. We have a modified experience for viewers using ad blockers

Wikia is not accessible if you've made further modifications. Remove the custom ad blocker rule(s) and the page will load as expected.