Putrid Pancakes is a trashie from
Series 7
. He's a part of the Grubz crew. He's a pile of icky pancakes on a plate. "Flip over that trash!"(Trading Card Line)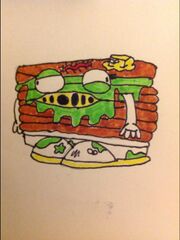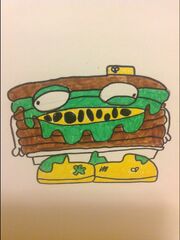 BIO:
Add syrup and butter, ice-cream...anything you like! There's no such thing that can make Putrid Pancakes taste good or make people NOT spew when they take a nibble of him.
Hangout
Cruddy Kitchens
General Info:
Series: 7
Team: The Grubz
Finish: Class
Colours & Rarity: Brown(Common), Yellow(Common), Chartreuse(Common)
Wave: 1
Trivia
He looks really similar to Stale Bread.
Ad blocker interference detected!
Wikia is a free-to-use site that makes money from advertising. We have a modified experience for viewers using ad blockers

Wikia is not accessible if you've made further modifications. Remove the custom ad blocker rule(s) and the page will load as expected.