Busted Bulb is a Trashie from Series 7. He is from the Hard Rubbish Crew. He has a GID version of himself in the Spinning Peecups playset. "Shocked by the garbage!"(TC Line)
BIO:
If you screw Busted Bulb on your light he will sure cause a fright. Turn him on and he will occur a trashy blackout...to your whole neighbourhood. It's a long time since he was bright as a light.
Hangout:
Stinky Storages & Boggy Basements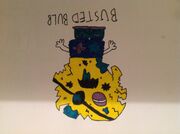 General Info
Series:7
Teams:Hard Rubbish
Finish:Classic
Colours&Rarities:Bright Yellow(Common), Teal(Common), Dark Grey(Common)
Ad blocker interference detected!
Wikia is a free-to-use site that makes money from advertising. We have a modified experience for viewers using ad blockers

Wikia is not accessible if you've made further modifications. Remove the custom ad blocker rule(s) and the page will load as expected.